This giveaway is now closed. Congratulations to Leslie! I'll be in touch soon to get you your donut goodies!
It's survey time, folks! When I leased my new studio space in downtown Los Angeles, one of things I was most excited about was being able to host workshops in the space!! In the past, I have loved meeting some of you at in-person workshops and I am SO DARN EXCITED to have the chance to do that more often! While I'll teach some workshops myself, I also plan to bring in some other super duper talented folks to share their skills with you. PARTY! So, for those of you who live in Southern California**, I would love for you to take the survey (linked below!) and let me know what YOU would like to learn. Maybe it's calligraphy? Maybe it's floral design? Maybe it's some bloggity-blogging tips? Or maybe it's good old fashioned piñata making? I want to hear it ALL! And guess what I'm giving you in return? Every entry (if you choose to participate) will be entered to win some DONUTS! That's right, a great pairing of one of the donut notepads from my collab with Pencil Shavings AND a $25 gift card to Donut Friend here in LA. Because you all deserve some donuts. Take the survey below!!!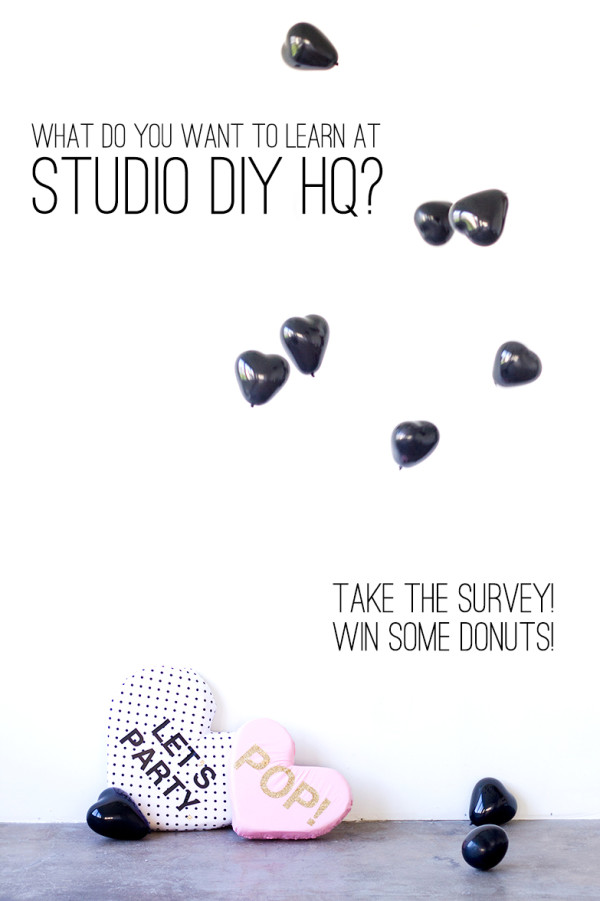 CLICK HERE to take the Studio DIY workshop survey, and enter to win some DONUTS!
**I am asking that only folks in Southern California take this survey, since that is where the studio is and I want to get an accurate read from potentially attendees. However, if you happen to frequently travel to LA or you just really like road trips for the sake of crafting, you are welcome to chime in as well!
The giveaway will close next Sunday, February 23rd, at 11:59pm PST and the winner will be announced the next day. The survey will remain open to take, however!
Thank you SO much in advance for taking a few minutes to take this survey! I hope we can all meet and craft together SOON!
p.s. Donut Friend is not associated with or a sponsor of this post. I just wanted to give you guys some donuts, because that's just how I thank people. With donuts.