An alternate title for today's project would be, "I was avoiding the work I really needed to do and walked to the fabric store across the street from my studio and found a mecca of sequins and polka dots." But, that's an awfully long title. This project wasn't planned, and my haphazard step-by-step photos show it, but I just loved how they turned out so much (imperfections and all!) that I had to share. The tutorial will just explain how to make the basic heart, but guess how I turned them into conversation hearts!? I used my Cricut Explore that I've been secretly playing around with for an exciting upcoming partnership. The new machine went on sale on HSN last night and sold out in a FLASH! And I can see why… it cut these letters in seconds and it can also draw and cut simultaneously. WOAH! All I had to do was press a button, and then iron them on. But we'll talk more about Cricut in the coming weeks. For now… let's make some plush hearts!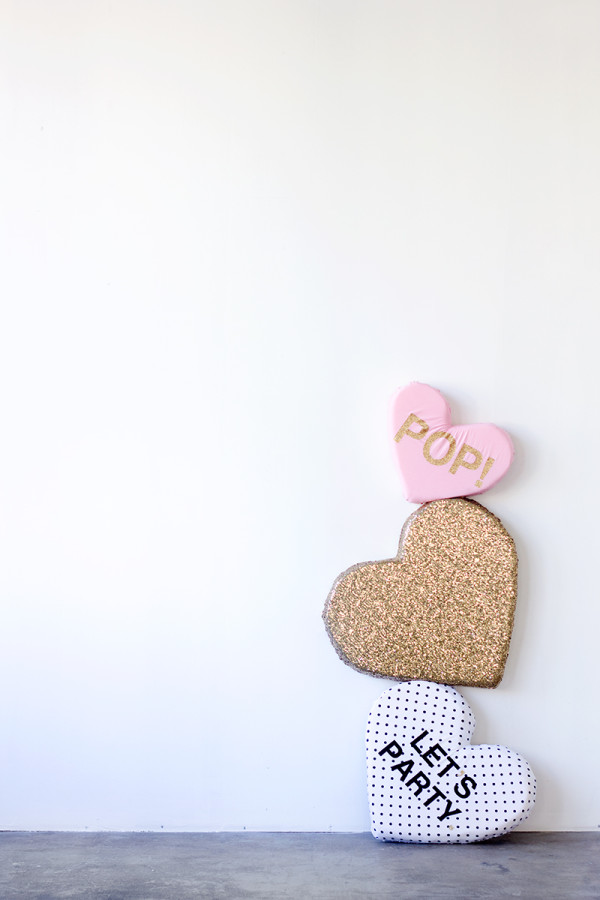 Hearts on hearts on hearts! As it should be…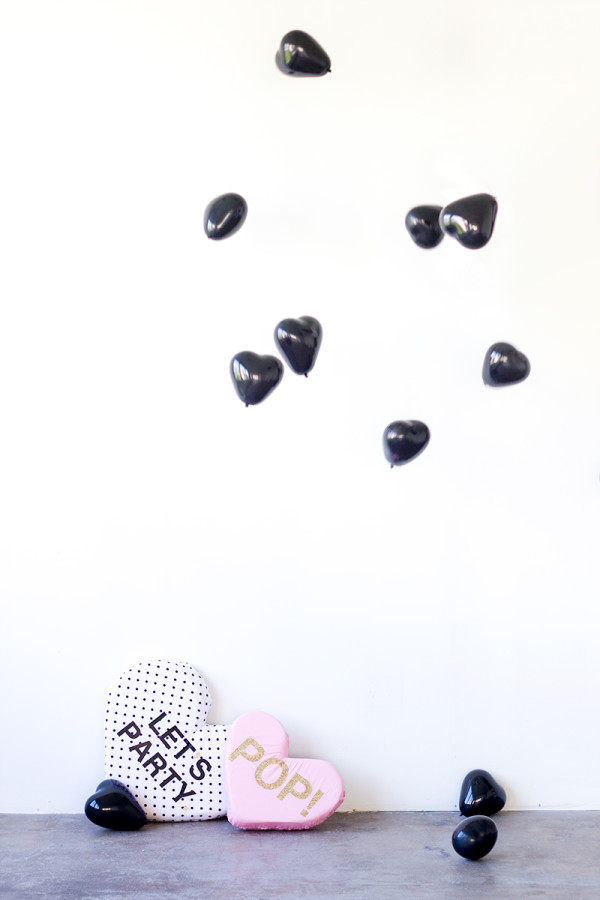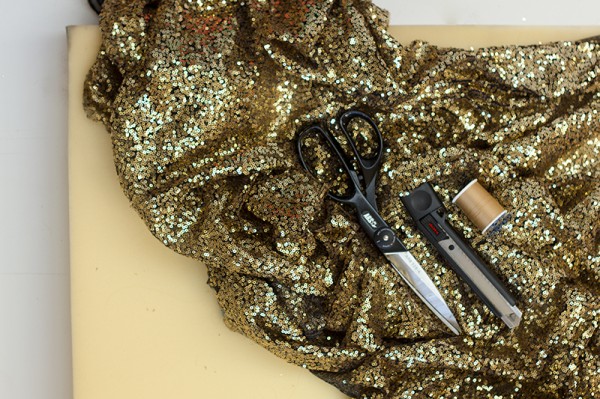 Fabric with a Stretch To It (I used regular cotton for the non-sequin pillows, but the stretch of the sequined fabric definitely worked better with the foam!)
Foam or Pillow Stuffing (I used 3″ foam!)
Sewing Machine
Utility Knife (One with a long blade is best, gives a smoother cut!)
Scissors
Needle + Thread (for hand sewing)
Iron On Material (I used Cricut iron-on material, found here. More about it explained in the steps below!)
I'd like to preface this with the fact that the way I covered these plush hearts was kind of the lazy way, and every sewing teacher I've ever had is probably cringing reading this! But you know what? I like the imperfections of these guys. NOW! To start, cut out your heart shape from the foam using your utility knife. (You can make a paper template to help out with that. And if you're just using stuffing, skip this step!) Fold your fabric in half, good sides together. Lay your foam on your fabric and cut around it through both layers, leaving about a 2″ border if using 3″ foam (or more or less depending on your foam's thickness).
Pin your two pieces together as is, and it's time to sew it up! You need to leave the majority (like 3/4) of one side of your heart open so you can slip it over the foam. Keeping that in mind, sew up the rest using your machine.
Turn your heart fabric so it's right sides out. NOW! If you want to turn them into a conversation heart, you have a few options. Whether you have a cutting machine like Cricut or not, I highly recommend their iron-on material. Using a Cricut like I did, or just your scissors, cut out letters to spell whatever phrase you want. (Remember, everything needs to be cut BACKWARDS so when it's ironed on, it is correct!) Then follow the package instructions for ironing on to your fabric. After that's done, slide the cover over the foam. It's going to take a little pulling and maneuvering, but you'll get it (this is why a fabric with stretch is best)! Then all that's left is to hand stitch the other half of the heart. Fold the raw edges under and pull the fabric taught and sew it up! I used a slip stitch so it was largely hidden.
And there you have it! A haphazard tutorial with some pretty sparkly results! I think all three of these pillows will find a permanent home in the new studio!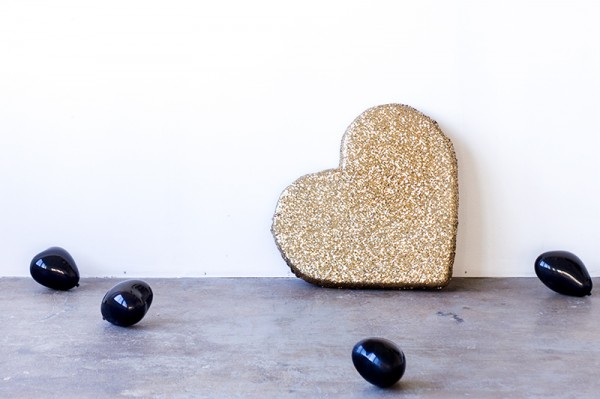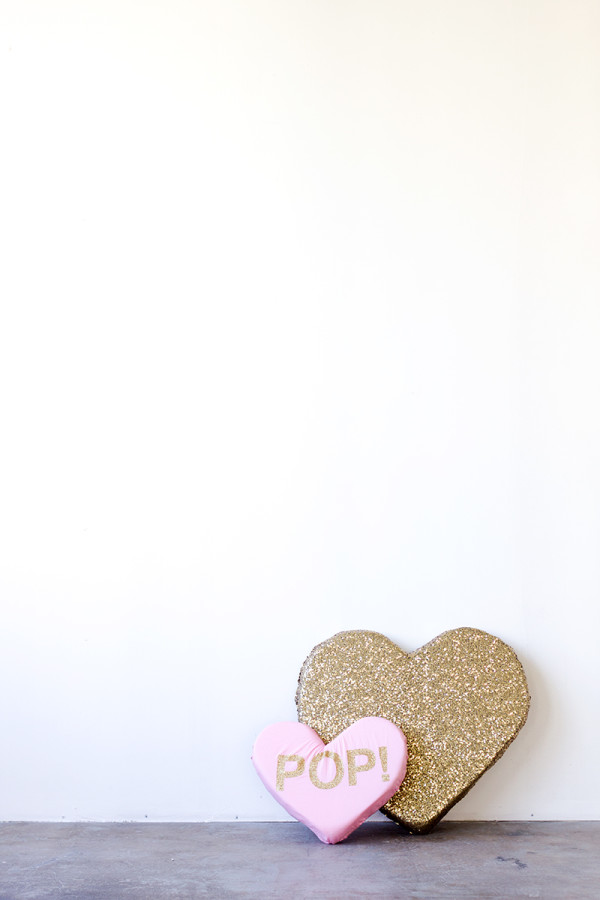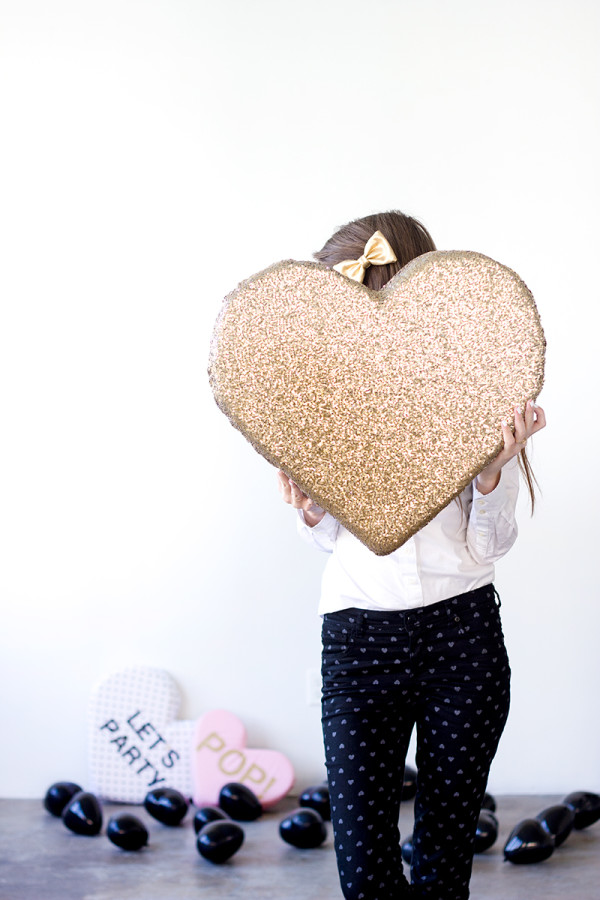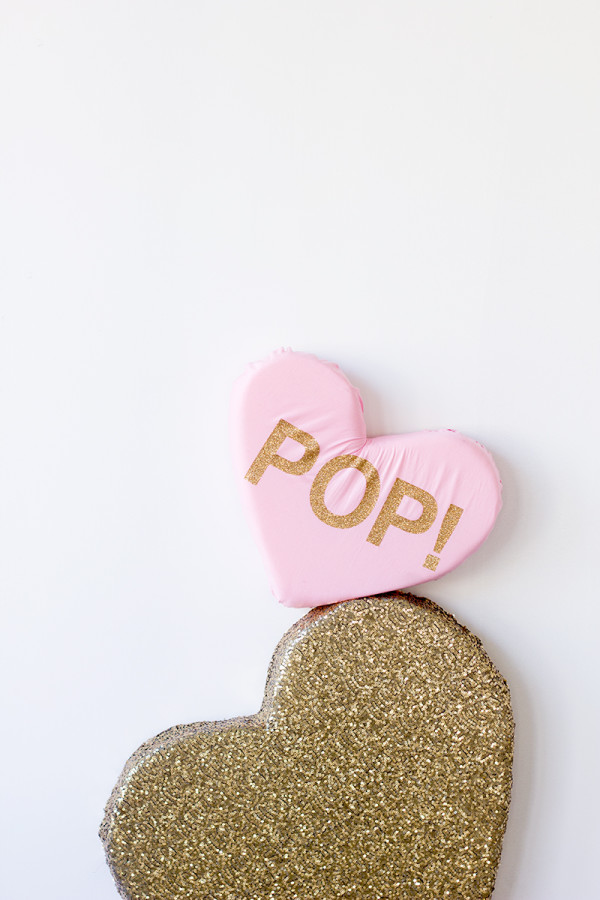 And in honor of the very first post from the new studio space, I had to hop in for a few! Learning to shoot in a new space is always tough for me, but I'll get there! In the meantime, at least I have some sparkly pillows to stare at…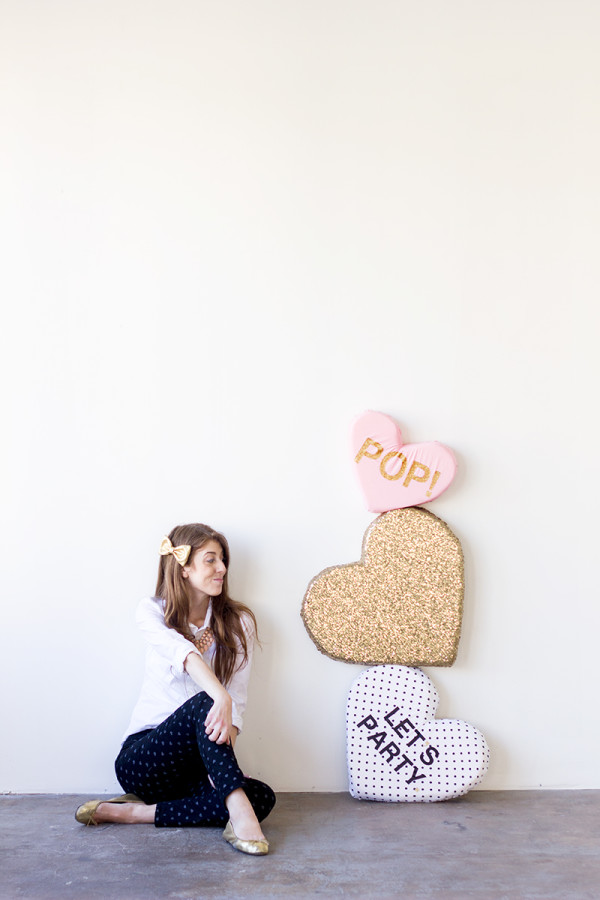 All Photos by Studio DIY
Eeeek! Only two more days until Valentine's Day! Though as evidenced above, I totally think these work long after February 14th… so keep 'em in your arsenal for future gifts, or photo props even!
For more Valentine's Day DIYs, head over here!