Happy Monday, folks! In case you didn't notice last week, these giant crepe paper roses really stole my heart after I was asked to lead a workshop on them at a private Martha Stewart event last week. I'm hoping to share more on the class later this week, but for now I wanted to share my very own tutorial for making them! Of course, I am not the first to make these, but I did want to post a tutorial so I could share all the tips and tricks I learned along the way. This tutorial is very long and detailed, but if you do make these roses, you'll thank me! They take about an hour to make when you first start out but are so very, very worth it. Everybody has gone crazy over them! They would make the perfect Mother's Day gift so, quick! Order that crepe paper and get started!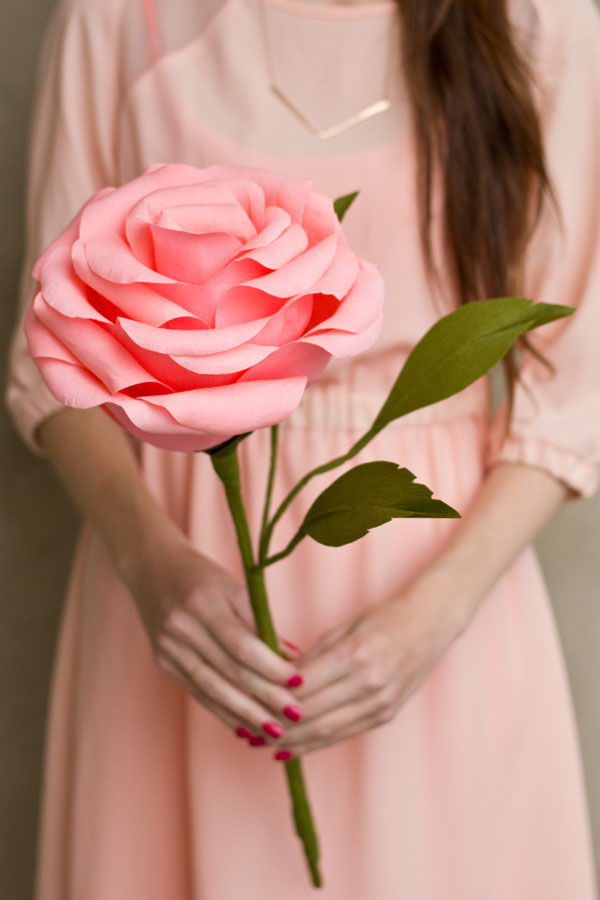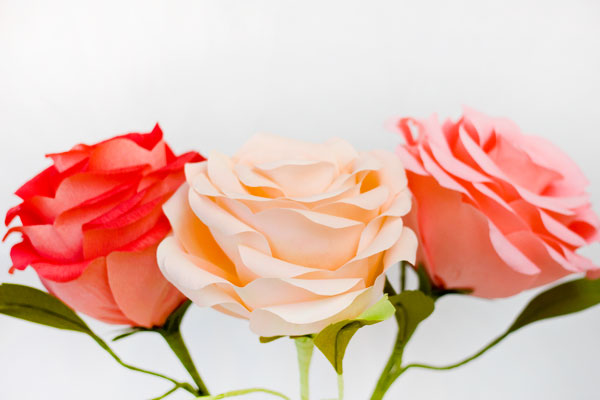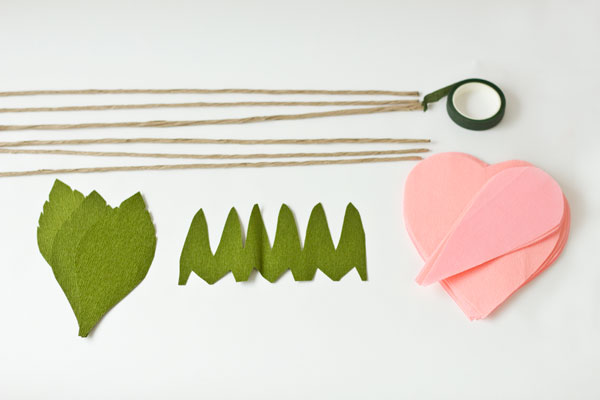 Doublette Crepe Paper (Cream Pink, Pink Apricot and Bubblegum for my petals and the Pale Olive and Deep Olive for my leaves)
Templates (Download them here on Martha Stewart and enlarge to your desired size. They recommend enlarging to 200% but I went with 150% to make them a little smaller and more manageable. All measurements I discuss here will be for the 150% size)
Paper-wrapped Stem Wires (Six per flower)
Floral Tape

Craft Glue
Round Pencil
Cutting Out Your Crepe Paper
You will need:
5 Small Petals
15 Heart Shaped Petals
3 Leaves
1 Calyx
2 1″ Wide Crepe Paper Strips (Just cut the entire bottom off of one of your crepe paper sheets)
I recommend sacrificing a bit of paper and cutting several layers at a time (Believe me, it's for your own sanity). I folded the crepe over and over again and stapled a template to the stack. Then I cut through all the layers that way, around the outlines of the shape. I found that I could get 8 heart shape petals out of each crepe sheet, 16 small petals per sheet, 17 leaves per sheet and 12 calyx (plural!?) per sheet. You can get 10 strips of crepe out of each sheet. You can also get a few additional small petals out of your leftovers from cutting the heart shape petals.
Begin by cutting everything out as listed above. Iron the petals, as necessary, to remove creases. Then make your stem. To do this, wrap three stem wires together with floral tape. It is important to stretch the floral tape as you wrap to activate the adhesive. Keep a damp towel near you to wipe your fingers as you go, they will get sticky.
You'll need to shape all of your petals. To shape the small petals, start in the middle of the petal and firmly but carefully pull the crepe outwards and upwards, forming a "cupping" shape in the center of the petal. Don't be afraid to stretch the crepe! It can take it. Now you'll need to curl the top edges of your petals. Do this by wrapping the top around a pencil, while stretching the crepe slightly to avoid wrinkles, about one to one and a half times.
Do the same steps with the larger heart petals. Again, only stretch the center of the crepe, not the edges or the bottom. Curl each top-side of the heart as you did above.
Voila! This is a tedious step but try your best to keep the shapes of your petals consistent.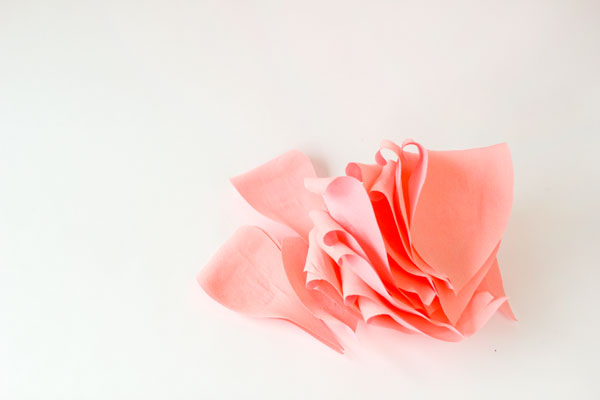 Now you'll need to make your bud using your five small petals. Start by wrapping one petal tightly around the stem. Continue wrapping each petal around, rotating the stem each time, until you've used all five.
Your bud should look something like this. It is OK if your petals wrinkle, fold or bend slightly at the bottom. (Really! It is!) Now you'll need to secure your petals with your floral tape. Wrap the tape all the way down the bottom of the petal until you hit the green of the stem again, this will secure the petals in place firmly.
Now you'll begin adding all 15 heart petals. Add as many petals at a time as you feel comfortable. I typically tape two petals at a time until I get to the last few, then I add one at a time. Each time you add a petal you should be rotating the rose slightly so the petals are spread around the rose evenly.
As your working, slip your fingers inside each petal and push the petal out to form it back to shape. After each petal, or few petals, use the floral tape to secure. Again, it is ok to have slight wrinkles and folds in the base of the petal where you are taping. Wrap the tape around and around until you hit the green of the stem again so it is secure! (This is so important.)
As you get to the last few petals, look at your flower from above so you can strategically place them where you think they are needed.
After all of your petals are secured, it's time to add the calyx to the bottom of the rose. Flip your rose upside down to do this. Wrap your calyx piece around the stem. Fair warning: this step is awkward. It is only important for the large leaf-parts of the calyx to be flat and smooth along the flower. It is normal for the top of the calyx to NOT BE SMOOTH against the stem. (See Below) Starting on the stem wrap tape, continuing down over the calyx to secure.
Set your roses aside to work on the leaves. Place a hefty amount of glue down the center of your leaf and lay a single stem wire in it. Fold your leaf over the stem and pinch and press along the stem to secure the two sides of the leaves together, covering the stem. Let dry.
To "open" your leaves (once dry), I suggest holding on to the top of the stem on the back of the leaf and carefully bending it backwards. Now add a dot of glue to the base of your leaf to begin wrapping your stem in one of your matching crepe paper strips.
Wrap the crepe paper down the leaf stem just as you did with the tape on the flower's stem. You only need a dot of glue at the top and bottom, nowhere in between! Wrap tightly in a diagonal motion, stretching the crepe as you go. Secure the end with glue. Repeat all these steps with two more leaves.
Now you'll need to temporarily secure your leaves to the flower stem. Place your leaves around the stem as desired and tape, wrapping around just a few times, just below where you're going to want your leaves to "bend." You can place your leaves as far up or down on the flower's stem as you want. Once they're secured with tape, bend the leaves far outward so you have space to work. Place a dot of glue on your calyx and begin wrapping the stem with your second strip of crepe paper. It is a little tricky at first as you'll get a bit caught up in the leaves. Just work slowly and be persistent, tightly wrapping as you go.
When you hit where your leaves are taped, simply continue wrapping the crepe paper but wrap over the leaf stems as well. Then wrap all the way down to the bottom of your stem and secure with glue. I placed my leaves up higher so my stems were not all even on the bottom. I though the crepe paper disguised this well enough and the unevenness at the bottom didn't bother me. If it bother's you, you can align all your stems at the bottom, but your leaves will be significantly farther away from the flower.
Bend all your leaves as desired and you are done!!!! I truly think this is one of my favorite crafts I've made. They are just so darn pretty!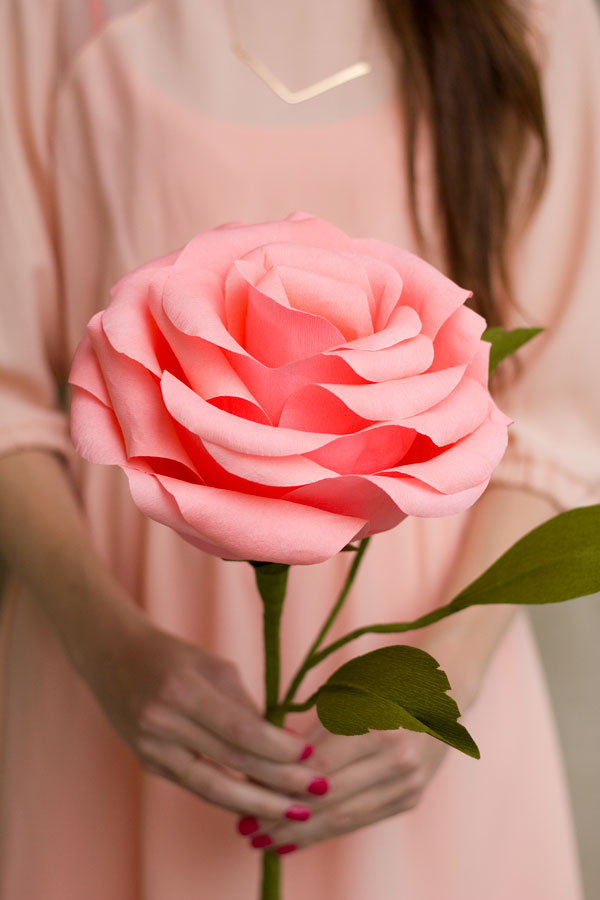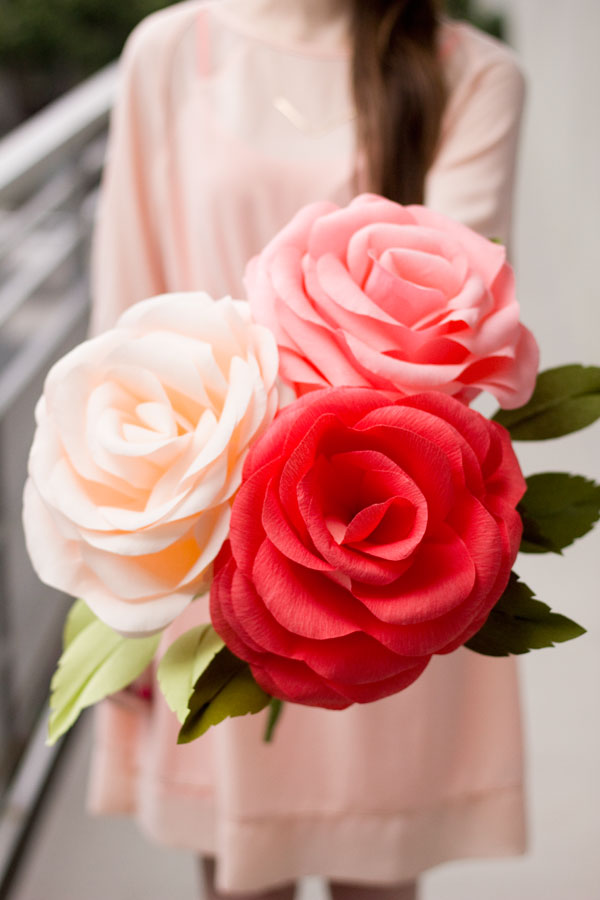 Top Tips for Making Paper Roses
(In my opinion!)
1. Only shape the petals in the center! Leave the edges and the bottom points of the petal untouched.
2. Stretch the floral tape as you wrap. If you don't, the adhesive won't be activated and it won't stick very well.
3. When attaching your petals always continue wrapping the tape down to (and on to) the stem. Allowing the tape to stick the stem keeps the petals from spinning around.
4. Don't be afraid of wrinkles and folds in the bottom! The bottom of the rose is covered and it is ok for the petals to not form perfectly around the stem at their base. Seriously, this was my biggest obstacle and I almost drove myself nuts trying to make them perfect and smooth.
5. Always re-shape your petals as you work. Slip your fingers into the petal and re-"cup" it so it lays close to the previous petal. This will create a tight and secure rose.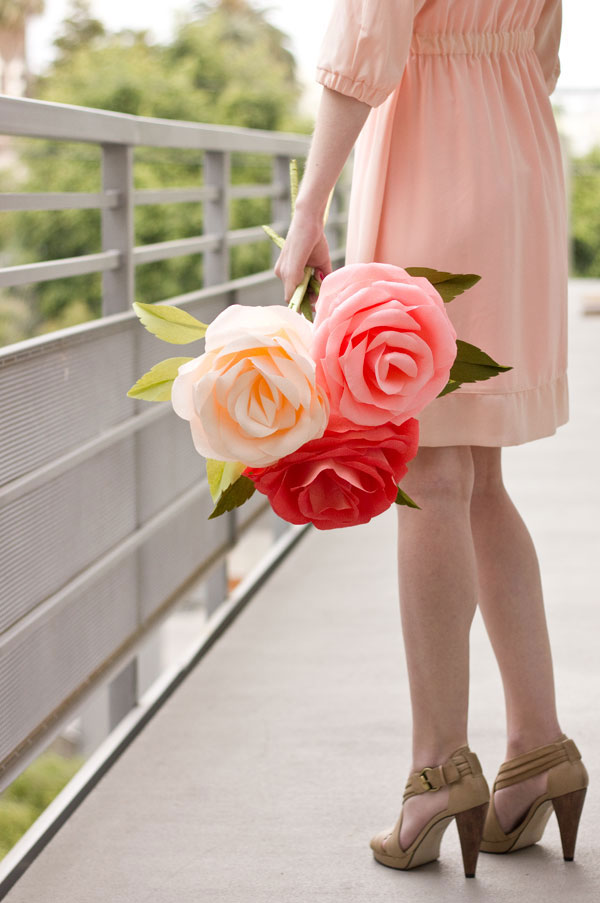 All Photos by Studio DIY
Phew! Are you still with me!? This was one hefty post but I know I would have appreciated these tips when I was first learning to make these. For your reference, there's also a video tutorial from Martha right here. My way of making these roses may be a bit different than this or others, so if you've made them before, feel free to share your own tips and tricks too! My favorite part about this project is each and every rose is different! They have so much personality and make amazing gifts, bridal shower decor, and just a fun touch to your every day life! I sure hope you'll try your hand at one!
If you want to get your craft on with real flowers you should probably check out the Garden Party series! And for more DIYs all around, head this way!