Brittni of papernstitch is an awesome blogger I've gotten to know through Alt Summit! Her blog is chock full of great DIYs and helpful tips for bloggers and freelancers like myself. I bet there's a lot of you who's younger-selves would be jealous of Brittni's Rainbow Brite costume. Am I right!? I can totally relate to Brittni wanting to don her costume even after Halloween ended. Did you ever have a costume you just wouldn't take off?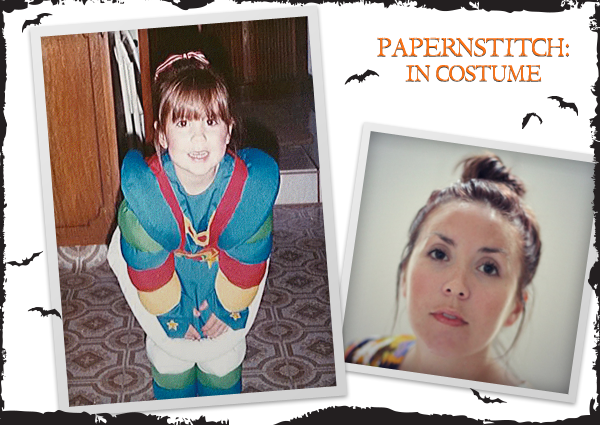 "My mom made so many great costumes for me when I was growing up, but I think my favorite was definitely Rainbow Brite. It was so legit! I thought Rainbow Brite was the coolest when I was little and I really wanted to be her. Not just for Halloween – in real life, I wanted to actually be Rainbow Brite. So my mom made this costume and I tried to convince her I should wear it absolutely everywhere. I ended up settling for a couple of times at grandma's house, once trick-or-treating, and once for costume day at school. There was a lot of padding around the arms and feet to make it look puffy, so it wasn't that easy to move around in, but I didn't care. It was awesome."
//
Brittni Mehlhoff is the editor of papernstitch, a DIY lifestyle blog dedicated to crafts, handmade, and creative entrepreneurs. She is also the founder of a curated exhibition site for artists and independent designers by the same name. When she is not working on papernstitch, you can find Brittni curled up on the couch with a roll or two of washi tape and her pit bull terrier, Luna.
See the rest of the Handmade Halloween series "Bloggers: In Costume" here!
Series Layout in Collaboration with Amanda of LoveCreative.