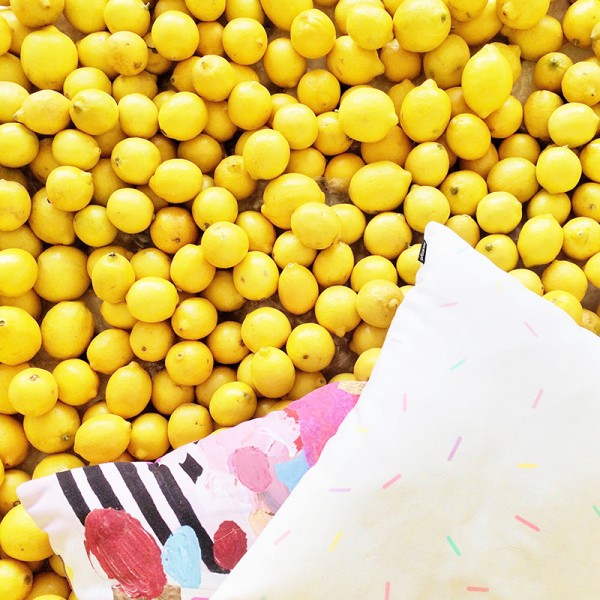 One of our shoots this week involved a BUNCH of lemons. Do you not store your pillows on a bed of lemons? Weird.
Anyone want some lemons? 😉 We had a busy, busy week in the studio getting everything prepped for donut week which starts Monday! Or Sunday, I may get to antsy so beware. The projects are so good. The giveaway is SO GOOD. I'm excited. In other news, there is an Empire screening, Q&A and concert at The Grove tonight so IF YOU WANTED TO KNOW WHAT I'M DOING. It's THAT. I'll be the crazy one dancing and singing my heart out in the corner because big crowds scare the heck out of me. On Saturday we're hangin' with these fine folks and the rest of the weekend is called WORK. What are you all up to? Hope you send off May and usher in my favorite month with a BANG!
Links to love, watch + procrastinate with…
Who remembers koosh balls? That's all I can think of when I look at these.
Bought overalls for our trip, and this dress for a family wedding!
38 new emojis will arrive next year, STILL NO TACO. But at least there's a croissant, palm to face AND fingers crossed!
Pretty sure I shared this already but HOLY MOLY!
Just bought these shoes and they're so comfy!
Finally going to read this crazy popular book on our honeymoon. Have you read it?
Sooo.. why is nobody talking about all. the. candy. floats. !?!?!?!
Projects to try + sugar rushes to be had…
I want to dye ALL MY SHOES now!
Paper maché donuts, please.
Do you want fries with that?
An emoji marquee!
I want to dive face first into these cookies.
Or do you prefer your cookies in cake form?
I've been drinkin'.